Parent Council AGM
Our first Parent Council meeting will take place this evening, Sept. 19, at 6:00 pm in our library, we hope many parents/guardians will be able to join us!
Awards Celebration for the 17/18 School Year
Our annual Awards celebration for the previous school year will take place on Thursday, September 27, 2018, at 4:30pm.  These awards will include Options, Character, Honors and major awards such as Student of the Year.  All recipients will be notified by email by September 21st. 
Please ensure you are registered to receive our emails by visiting www.eips.ca, scroll down to Parent Links - subscribe for Division & School emails.
Improving Home-School Communication
To enhance communication between families and schools, Elk Island Public Schools (EIPS) has developed a how-to guide entitled, "Communication Protocol for Schools." Topics include appropriate channels to use, standard formats and structures, timing and sequencing for regular and ongoing home-school communication, and ways to bring forward questions or concerns. Additionally, the manual offers useful tools and resources schools and families can use to enhance face-to-face meetings, emails and any social media efforts. The "Communication Protocol for Schools" is available at www.eips.ca/download/40981. 
Stay Connected: Subscribe to our news
As of the 2018-19 school year, Elk Island Public Schools (EIPS) is moving to a new service provider for sending phone and email notifications to families, School Messenger. Families won't notice much of a difference—all email subscription are being transferred so, there is no need to resubscribe.
If you're new to EIPS and want to start receiving Division news and update, or just want to review your subscription information, visit www.eips.ca/contact/subscribe. Canada's Anti-Spam Legislation (CASL) requires the Division to have direct consent before engaging in electronic communication with its families. Only those who have subscribed to receive emails will get information about Division and school-related news, such as newsletters, information about upcoming events, parent and community engagement opportunities, important school-based updates and more.
NOTE: Even if you're not subscribed, you will continue to receive emails regarding emergency situations and financial matters. Those who received notifications about high school attendance will also continue to receive those messages. 
Photo Retake Day
Smart Photography will be here again on October 26th in the morning for retakes.  If you need to contact them, please contact them at:
Toll Free: 1-877-838-0800
Email: info@smartphotography.ca
Pay School Fees Online!
School fee information for the 2018-19 school year is expected to be posted on the PowerSchool Parent Portal by the end of September. All fees are due within 30 days of being posted. To access your fee information, simply log in to the PowerSchool Parent Portal and go to "Student Fees." There you can view your fees and pay them online using Visa, MasterCard or INTERAC Online—when available from your financial institution.
Don't forget to log in to the PowerSchool Parent Portal regularly throughout the year. Fees are often added to your child's account to cover the cost of various school activities such as field trips, class projects, athletic-team fees and more. Additionally, junior high and senior high fees can change as courses are added and deleted—the course change deadline is September 11, 2018.
If circumstances exist where you are unable to pay your student fees you can apply to have fees waived by submitting an Application for a Waiver of Fees. The application deadline is Dec. 15, 2018.
For more information about school fees, waivers and payment deadlines visit www.eips.ca/schools/fees. Alternatively, contact Kim Walsh at 780-467-3800 or kim.walsh@eips.ca.
The Hawk's Nest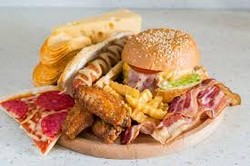 The Hawk's Nest is closed on all Early Dismissal days.
Menu for week of:
Strathcona County School Zone Time Changes: September 2018
Beginning in September, all school zones in Strathcona County will be in effect from 7:30 a.m. to 4:30 p.m. on school days. Playground zones will continue to be in effect daily starting at 8:30 a.m. and ending one hour after sunset. The speed limit during these times will be 30 km/h. Learn more
Division News