P.A.R.T.Y. Program
P.A.R.T.Y. is a national injury prevention program aimed at Grade 9 students, to educate them about the consequences of poor choices regarding risk-related activities, and to encourage them to make SMART choices. This field trip is one day, students will be assigned to either Tuesday or Wednesday based on Cohort Group. Permission forms for the PARTY Program were sent home with all grade 9 students on Wednesday, October 3. Please sign and have your child return the form with payment to the office by October 12 at the latest.
The dates for the field trip are as follows:
October 23 – COHORT's 91, 92 and 93
October 24 – COHORT's 94, 95, 96 & 97
Please note that all students need to be at school by 7:30 am on the day of your field trip and will be returning around 3:15 pm. If your child rides the bus – alternate arrangements will have to be made. Students are also required to bring a bagged lunch. There will be no opportunities to purchase food.
 If you require another copy of the Field Trip form, please call the office at 780-467-3800.
Take Our Kids to Work Day
Wednesday, November 7, 2018
Students know one day they will become part of the world of work.  Take Our Kids to Work gives grade nine students the opportunity to glance into this world, to gain respect for the contributions people make, and to strengthen the bonds between parents, students, and the community.  In the process, young people can discover the links between education and their own futures in a practical way. Forms will be handed out to our grade 9 students on October 12th. If you would like your child to participate please fill out the form in full and return it to the office by October 22, 2018.
Take Our Kids to Work Day permission form
Photo Retake Day
Smart Photography will be here again on October 26th in the morning for retakes.  If you need to contact them, please contact them at:
Toll Free: 1-877-838-0800
Email: info@smartphotography.ca
Late Policy Revision and Reminder
Late Policy Revision:
For students who are late, the following consequences are administered:
  4 lates per semester    - Lunch Hour Dentention
  8 lates per semester    - Meeting with Administrator
  12 lates per semester  - Letter Home
  16 lates per semester  - In School Suspension
  17+ per semester        - Administration Discretion
The school late policy applies to students who are late for any classes throughout the day.  If a student is late for class and we have not received a parent phone call, email, note, or other communication, it will be recorded as unexcused. 
If a student arrives late to any class, they will need to check in at the office and receive an admit slip in order to be allowed into class.  Lates will be reset at semester change.
Attendance Reminder:
If a student is away for any reason, we need to receive a parent phone call, email, note, or other communication to the office to excuse the absence.  Students are expected to communicate all absences with teachers and discuss the opportunity to make up missed work and complete assessments at a mutually agreeable time.
Unless we have heard otherwise, any student that is not present in class at the time attendance is taken will be marked as an unexcused absence.  For all unexcused absence parents will be notified immediately.  
PST Conferences
Out first round of conferences will take place on Nov. 1 and Nov. 6 from 4:30-7:30 pm both evenings.  Families do not need to make an appointment, conferences are first come, first serve, mainly located in our gym areas.  We hope to see you all then!
Pay School Fees Online!
School fee information for the 2018-19 school year is now posted on the PowerSchool Parent Portal. All fees are due within 30 days of being posted. To access your fee information, simply log in to the PowerSchool Parent Portal and go to "Student Fees." There you can view your fees and pay them online using Visa, MasterCard or INTERAC Online—when available from your financial institution.
Don't forget to also log in to the PowerSchool Parent Portal regularly throughout the year. Fees are often added to your child's account to cover the cost of various school activities such as field trips, class projects, athletic-team fees and more.
If circumstances exist where you are unable to pay your fees, you can apply to have fees waived by submitting an Application for a Waiver of Fees. The application deadline is Dec. 15, 2018.
For more information about school fees, waivers and payment deadlines, visit www.eips.ca/schools/fees . Alternatively, contact Kim Walsh at 780-467-3800 or kim.walsh@eips.ca.
FR Haythorne has an online store!
http://frhaythornejuniorhigh.entripyshops.com/
This site allows you to customize clothing for the school, and show your school pride for school events such as pep rallies or volleyball games! See Mr. Mali for any questions!
Stay Connected: Subscribe to our news
As of the 2018-19 school year, Elk Island Public Schools (EIPS) is moving to a new service provider for sending phone and email notifications to families, School Messenger. Families won't notice much of a difference—all email subscription are being transferred so, there is no need to resubscribe.
If you're new to EIPS and want to start receiving Division news and update, or just want to review your subscription information, visit www.eips.ca/contact/subscribe. Canada's Anti-Spam Legislation (CASL) requires the Division to have direct consent before engaging in electronic communication with its families. Only those who have subscribed to receive emails will get information about Division and school-related news, such as newsletters, information about upcoming events, parent and community engagement opportunities, important school-based updates and more.
NOTE: Even if you're not subscribed, you will continue to receive emails regarding emergency situations and financial matters. Those who received notifications about high school attendance will also continue to receive those messages. 
The Hawk's Nest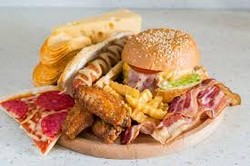 The Hawk's Nest is closed on all Early Dismissal days.
Menu for week of:
The New Teen Trend: Juuling
Here's what it is and how it works
A recent trend called "juuling" has come to our attention and we wanted to make you aware so you can discuss the issue with your child directly.
A Juul is a brand of electronic cigarette that looks like a USB drive—rather than the more familiar e-cigarette or vaping systems. The pods that are used for juuling contain a highly concentrated form of nicotine but because the vapour smells sweet or fruity, and as a result, you may not be aware when it's in use. The size of the device also makes it difficult to detect.
Smoking and vaping in any form, including Juuls, are not permitted either in school or on school grounds (see "EIPS Administration Procedure 162 Smoke-Free Facilities" at www.eips.ca/about-us/administrative-procedures/162). Students who don't respect the procedure risk facing disciplinary action at the school level.
More importantly, though, the inhalation of tobacco and other related substances poses a significant health risk for students and those around them. Nicotine and other carcinogens can impact student behaviour, concentration, memory and an ability to learn. Many of these products contain ingredients that are highly addictive and harmful to the long-term health and well-being of individuals, particularly young people.
Please consider talking with your child about the negative effects of smoking, vaping and using electronic cigarettes.
For more information, see this Global News segment: https://globalnews.ca/news/4194090/what-is-juuling/.
Division News